Hiring of software developers effectively involves spotting, identifying, and onboarding candidates who can build the right software application to meet your business goals and objectives.

Being part of Human Applying our collective wisdom of over two decades, this definitive guide to hiring software developers aims to help you find software developers with excellent knowledge of software development skills and exemplary soft skills. When you collectively apply the hiring funnel, strategies, and tactics outlined in this definitive guide, it will yield a highly effective job description, screening process, and candidate shortlisting.
The lack of a perfect hiring process, smart strategy, and practical tactics in a highly competitive market makes it difficult to spot and hire the right talent on time. Bad hires cause project delays, bad quality product development, decreased productivity, and a disturbing workplace environment. All these factors turn out to be an expensive affair. This extensive how-to handbook is the answer to all these issues.
Using this definitive guide, you will be able to: 
Plan and design your software developer recruitment funnel

Write a compelling job description to attract the most-suited job applicants

Shortlist the right resumes

Screen shortlisted candidates through phone screening

Ask the right questions to the candidates for the designated post (by diving into our bank of over 200 questions and answers)

Make an offer in the most professional manner

Close the deal efficiently

Throughout the hiring process, communicate with candidates effectively

Lastly, things to avoid (red flags) while recruiting
Lets get started! 
Why it is challenging to hire software developer
Information Technology (IT) is a niche field where many non-tech hiring professionals have the responsibility of asking the right tech-related questions in the right manner, to employ the perfect fit for a position in tech development. This process can be daunting as many tech non-savvy hiring managers don't have the expertise to decipher that world.
Until now, we have been hiring software developers with varied skills using different plans which can get confusing. Some of the methods include a few prescreening tools and a bunch of interviewing techniques. Though these methods aid in the process, we find it challenging to hire creative, specialised, and skilled Software Developers with the right skill set to get the job done.
The solution is to hire the right software professional apt for a specified task. There needs to be ONE master document that has the COMPLETE process chronicled in one place – from sourcing candidates to interviewing them to making an offer and closing the deal. This guide will handhold non-tech hiring managers, HR professionals, and everyone related to the IT industry to hire better. People who are involved in understanding, deciphering, recognising, and hiring IT professionals, will be able to take each step carefully in the right direction.

The goal of hiring software developer can be broadly broken down into two categories: 
Excellent knowledge of tech skills

Exemplary presence of soft skills
In the tech know-how category, skilled Software Developers must have programming skills that include the knowledge of programming language, database knowhow, APIs (Application Programming Interfaces), integrations, design, SDK (Software Development Kit), and Editing Tools. In the soft skills' category, good software developers must possess abilities like teamwork, problem-solving, learnability, presentation, and excellent communication skills.
Here is a step-by-step Definitive Guide that includes a systematic breakdown and breakup of the right way to hire software professionals. This guide will enable you to efficiently and effectively identify, assess, and hire Software Developers and/ or streamline your recruitment strategies and improve your hiring process.
Identify the traits you need in the software developer
Today, we depend on our computers, mobile phones and software applications for virtually everything. Apart from doing simple stuff like messaging our loved ones we also shop online, execute complex duties like banking, tracking fitness, and navigating travel destinations.

There is a continuously evolving need in the market for developing better and quicker apps. On one hand, existing software applications constantly need upgrades, on the other, many organisations are keen on creating new, innovative, out-of-the-box, softwares and applications to keep themselves ahead in this space.
Let's take an instance where an Software Developer has to create a brand new software for a certain target audience. When starting on this journey, ask these three questions:
Let's take an instance where an Software Developer has to create a brand new software for a certain target audience. When starting on this journey, ask these three questions:
The goal of hiring software developer can be broadly broken down into two categories: 
Who is this app being built for (identify your target audience)
Where will this software be used (identify platforms)
What kind of expertise will be needed to build this software (tech knowledge)
Here are the pointers of how the entire recruitment process should be carried out in the right step-by-step manner:

Prepare a list of technical competencies and soft skills required to develop the software application
Decide its design and features as per its target audience. This will help you prepare the job description to share on various job portals, social networks, and other interested parties to attract potential candidates
Identify portals and platforms that will help you reach out to potential candidates
Screen resumes based on technical competencies, soft skills, and experience
Prescreen shortlisted candidates through phone or video interviews
Conduct interviews by asking relevant questions fit for the position
Take decisions and make the job offer to new hires matching their expectations in terms of work location, compensation, roles, and responsibilities
Design your hiring funnel
Building a smart and user-friendly software application is much more than simply writing coding programs. Fundamentally, it is a complex and intricate bunch of exercises that involve many attributes working together, simultaneously. From understanding the psychology of the target audience to studying market competition, it takes immense effort to make an excellent app.
It begins with hiring a competent team, the members of which need to be passionate to deliver the most innovative and world-class product. These attributes are crucial to the success of the end product. Keeping these parameters in mind, how do we channelise the hiring process? This is where the funnel approach fits in best. To reach, connect, convince and hire candidates faster, better and cheaper, ask the following questions to expedite the process in the right direction:
How do we maximise the response rate of our lead generation through advertising, social media sharing, and email outreach?
What type of ads and email tactics can get us the maximum response from a potential candidate?
How can we stay on top of things while taking candidates through the prescreening, assessments, and interviewing processes?
How can we stay on top of things while taking candidates through the prescreening, assessments, and interviewing processes?
How effective is the conversion rate from start to finish?
Where are the major bottlenecks that need to be improved?
Here are the pointers of how the entire recruitment process should be carried out in the right step-by-step manner:

Based on the hiring funnel system, we have developed a quick and effective 'Candidate Attraction System' by which you can optimise the hiring ratio, post prescreening the candidate. You can tweak our flexible system by adjusting the hiring funnel to fit your specific requirements to achieve the most effective results.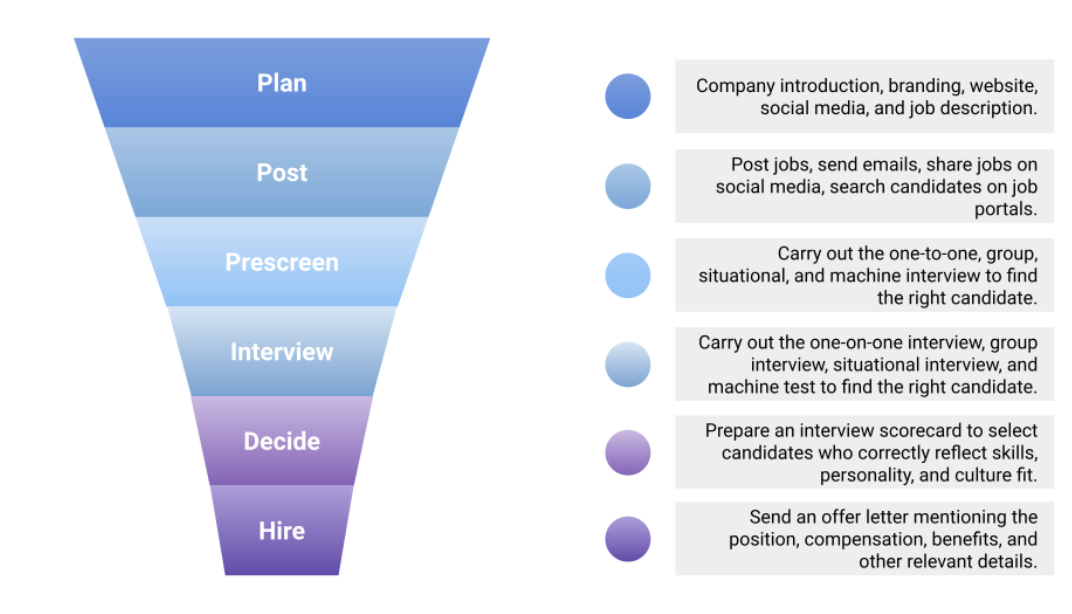 Prepare software developer hiring plan
Building the right hiring plan begins with developing a correct and accurate job description. The job profile must be accurately and precisely drawn. Generic descriptions lead to ambiguity and chaos, which could lead to attracting awry Software Developers unfit for the specific task. Eliminating ambiguity is key in this process.
There are a few basic requirements that are most essential for the post of a good Software Developer. They have to have multifaceted skills in software programming and design, including good command over the programming language, data structures, algorithmic concpts, source control, databases, operating system, networking basics, testing methods, software development lifecycle and design principles. Apart from these essentials technical skills, applying the Hiring Funnel method properly enables hiring managers to narrow down their candidates in a timely manner.

Here is the job description template for you to get started with the first step: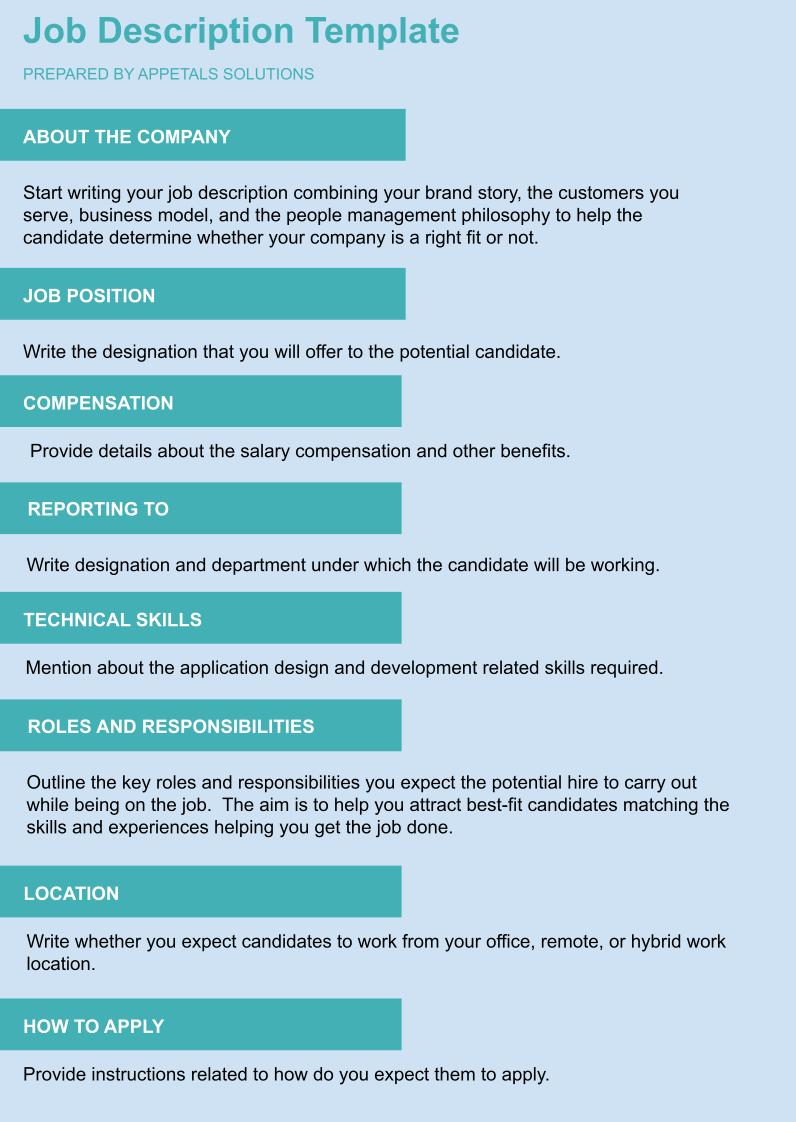 Mistakes to avoid while writing the job descriptions:
Avoid publishing a vague job description that does not state the roles and responsibilities clearly.
Don't make the job description only detail what you want, forgetting entirely about what you offer in rewards.
Do not mention outlandish earning potentials making it sound unbelievable.
If your company believes in a good work-life balance, mention it in your job description.
Let's break down in detail the various section of the job description.
.
Job Description: About the Company
For any Software Developer, being a part of a company is much more than simply committing to a 9 to 5 job. It is about giving their time, energy, passion, and purpose to bring success to the organisation's purpose and mission.
Building an app is about adding value to people's lives by simplifying a specific task. It is about believing in the vision of the organisation and being part of a solution-seeking journey for the greater good. Therefore, all the factors must be included in the 'About the Company' section. This clarity will give candidates an understanding of the company's beliefs and ideas. It will assist them in deciding whether or not they believe in the philosophy of the company.

Start With Your Mission Statement
Mistakes to avoid while writing the job descriptions:
Why does your company exist?
What is the philosophy of your company?
How are you adding value to your clients or customers
Your mission statement has to encapsulate the essence of all these attributes in a crisp, concise and intelligent manner.
Explain Your Unique Offer
Describe briefly how your app will help in solving your customer's problems
How will it positively impact your customer's day-to-day life?
How is your product superior to other competitive offers in the market?
Blend your company's values and mission statement to explain your product's USP. This description will give the Software Developer a clear picture of whether or not the candidate wants to be part of your revolutionary journey.
Substantiate Your Positioning With Historical and Statistical Data
Numbers make a huge impact. Statistics matter. When candidates learn about how your company has fared over a while; and you support your achievements with facts and figures, you help them expedite their decision-making process. This is because such proven data reinforces your company's authority in the market and in the candidate's mind.
For this process, describe concisely all about your journey.
How did you get started on this quest to build software application?
How did you spot the problem?
How did your earlier unique offering make a difference in the lives of your customers?
What are your key milestones?
In case you find this exercise overwhelming or intimidating, simply, diligently, follow the above-mentioned rules to write about your 'About the Company'.
While all this statistical data establishes how technologically strong a hold you have in the market, it is important to pay close attention to another aspect of this process – the emotional connection. It is about striking an emotional chord with your potential candidates. For instance, an online shopping app not only eases the process of stepping out and going through the entire process of buying things, but it also saves time so people can spend more quality time with their families. You must establish all the intangible advantages that your app will provide. Your candidate will feel motivated and charged to be part of the revolutionary products you are in the process of building.
Job Description: Job Position
This section is all about being clear and concise. It is important to keep the job position title as per industry standards and maintain familiarity for when potential candidates type out the position titles, your job description shows up in their search.

Below mentioned are a few job positions for an Software Developer's role:

Junior Software Developer
Experience: 0 – 3 years
Junior Software Developers are those who have completed a few app development projects using the programming language specialization you are seeking from the prospective candidate. Skilled with relevant knowledge of core features of programming language and extended features, they know how to access web services, store and display data, develop multimedia applications, perform routine tasks and carry out software upgrades and maintenance.
Mid-level Software Developer
Experience 3 – 5 years
These developers have 3 to 5 years of experience and are considered mid-level Software Developers. They have the skills and expertise to develop software applicationss independently. They can develop apps for computers, smartphones, tablets, and wearable devices using advanced features such as API integration, data presentation, UI/UX development, AI/ML/NLP features, etc.
Senior Software Developer
Experience 5+ years
Senior Software Developers are needed to build modern, fast, and reliable software applications. These are those who can independently build advanced applications, collaborate with teams, work with data sources and APIs, conduct unit-testings, fix bugs, improve app performance and implement new technologies to maximise development efficiency.
Software Testing/ QA Engineer
Experience: 1 – 5 years
This category of developers belongs to those who excel at building incremental features and improving app functionality. Test/QA Engineers ensure the seamless functionality of your application, facilitating a high-quality experience for your customer.
A successful Testing/QA Engineer has excellent mobile and web application testing skills, a sound understanding of UAT, system techniques, integration, and regression testing. They also excel at analytical and problem-solving abilities and their attention to detail is impeccable.
Job Description: Compensation
More and more companies are giving importance to the holistic development of their employees. Extensive research has proved that the state of mind plays an important role in one's performance. Thus, if your employees feel good about the project they
are working on, they automatically perform better.
Being remunerated and rewarded in ways beyond the salary is another key reason to feel good about developing an innovative solution. Employees are keen to know about the additional benefits the company is offering, adding those details when
drafting the part in Compensation is mandatory.
Answer the following questions and you will get a brilliantly scripted compensation description:
Do you offer a lucrative and industry benchmarkable compensation package?
Do you provide additional benefits such as bonuses, employee stock options, lifestyle perks, etc.?
Job Description: Reporting To
To explain the hierarchy of the reporting structure and team dynamics, mention the designation and department under which the candidate will be working. This will give the candidate a clear understanding of where and who the potential employee will be reporting to.
Job Description: Technical Skills

Software development is among the most lucrative and vast software application platforms. As more and more versatile features are being added to this developing and development platform, it will continue to dominate the space for years to come. Keeping this in mind, you should consider and mention the Key Technologies Section of your job description:

Job Description: Roles and Responsibilities
Clear, concise, articulately-defined roles and responsibilities are a sure-shot way to attract the right talent. Follow the steps described below to build the Role and Responsibility section of your job post:

Select the essential Software development skills required to develop your app.

Programming Language
In your quest to spot a good software developer, you must spot developers who have in-depth knowledge about the programming language you are using in your development project.
JavaScript, Python, Dot Net, Java, C++, PHP, Swift, Kotlin, Ruby, and SQL are among the popular programming languages used for software development.
GIT
Software Developers use GIT for version control, source code sync, continuous integration, automated testing, and tracking the flow between IDE and repository.
SDK
SDK provides essential API libraries and developer tools necessary to build, test, and debug software applications. Developers require such tools, debugger, libraries, device emulator, documentation, sample code, and tutorials to create an app for devices.
User Interface (UI) and Navigation
Modern software stacks provides a variety of UI components for developers to design an easy-to-use, precise, and interactive user interface. A well-experienced developer designs apps using custom views and animations, material design, ListView, Custom Views, Compound Views, and other features to deliver a seamless experience.
SQL, JSON, and Web Services
Almost every application requires integration to store and organise data. An Software Developer knows the methods and techniques to write SQL queries, JSON file handling, and XML to define design layout elements like buttons, views, titles, and more.
Web Services
Using web services, a developer integrates with third-party applications like payment gateway, user authentication, maps, etc. Developers know the internal library to manage logging responses from the web services.
Scrum
Scrum is an essential part of project management for communicating, developing, and updating the status.
SQL
SQL, which stands for Structured Query Language, is a programming language for operating databases. It includes storing, manipulating, and retrieving data stored in a database.
Software developers need to have SQL skills to build software and database applications. If you are well versed in SQL. Developers need to have better command over data exploration and effective decision-making.
Backend Functionality
Software applications require presenting text, graphics, and video content to its users, real-time interactions, data backup, and many underlying features that require the skill of backend development. The knowledge of backend skills to build an app is important.
App Security
Security is the most crucial aspect of software applicationlications. Most programming languages provides software libraries and programming features to secure the software applicationss. Hence, developers know about making the app more secure.
Depending on the features that will be part of your app, you need to include such essential skills that the developer needs to build the app.
Add a list of essential soft skills to the job description

Software development is one aspect of building good software applicationss. The other essential part of this intricate process is being a master in soft skills. Good developers are excellent communicators as they need to interact with their colleagues from various departments, engage with peers, and of course, interact with their clients and customers.
Below is a list of soft skills you can add to the job description:
Communication
A good software developer is a good listener who constantly learns, broadens horizons, and grasps things better. It is most essential for a software developer to have this quality as interaction with colleagues, customers, and users is part of their job requirement.
The other aspect of communication is the ability to speak with clarity, confidence, and conviction to communicate well. With these qualities, a good communicator stays focused, listens carefully without interrupting, and speaks with confidence.
Empathy
Empathy is one of the core essential attributes to have for any professional. In this case, as software developers work in a team that may comprise people from across cultures, genders, beliefs, and races, an empathetic approach towards interacting with the teams while developing the app is crucial. In this manner, the developer can connect better with others and understand their needs and requirements.
Patience
Building a software applicationlication is not an easy feat. It takes an ample amount of time and patience to plan, design, commence, build software code, test and deploy it on the app store. To accomplish the required results, developers require enough time to build a niche, innovative app. The more they work on it, the more they get to improve its features and benefits, making it work faster and better.
Ability to Learn and Adapt
The world of software and technology is constantly evolving. When hiring a developer, check their eagerness and willingness to learn something new. Spot developers who are eager learners, unafraid to experiment, and who are ready to face challenges head-on.
Critical Thinking and Problem Solving
Software developers are busy firefighting. They have sharp problem-solving skills and the ability to apply critical thinking techniques to develop creative, out-of-the-box, intelligent solutions.
Accountability
Programming bugs, misunderstandings, and design issues are common occurrences during the process of software development. A good developer takes responsibility for the completion of a well-designed app. This includes accountability to own, fix and cooperate with others to produce a perfect solution-based app, as discussed and decided.
Managing People, Time, and Projects
Developers dedicate a significant amount of time to complete tasks, manage project deliverables, get things done with the assistance of their team members and other people involved, all within the stipulated time. A defined and refined skill to provide time estimates, adhere to deadlines, be a good team player and get the app built within the given timeframe is one of the core qualities of a software developer.
It is established that Software Developers need to be excellent at both – technical knowledge and soft skills. Depending on the requirements of the app that needs to be built, tweak the job description to get the right candidate.
Collaborate with cross-functional teams to define, design, and create new features. Team up with outside data sources and APIs..
Unit-test code for robustness, including edge cases, usability, and general reliability.Always discover, evaluate, and implement new technologies to maximise development efficiency.
Experience working with remote data via REST and JSON.
Expertise in frontend technologies like JNI, JSON, REST, Javascript, and HTML.
Experience with third-party libraries and APIs.
Excellent working knowledge of the general software development landscape, architectures, trends, and emerging technologies.
Experience with software testing frameworks and proficiency in writing clean unit-test cases.
Working with SDK, deep link, Google login, and other third-party integrations is an additional advantage.
Good understanding of activities, services, broadcast receivers, and content providers.
Desire to write meaningful code and develop products that have the potential to create a lasting impact on the business and in the world.
Strong coding experience in addition to proficiencies in the MVC framework, third-party libraries, animation effects, and designing.
Extensive knowledge of SOAP and/or REST development.
Familiarity with agile development, Scrums, continuous integration, and test-driven development processes.
Experience with frontend JavaScript MV* frameworks such as Angular, React /React Native, RAD.js, Ember, Knockout, or Backbone.
Experience with Node.js, NPM, Grunt, Gulp.
Experience with Visual Studio, Chrome Developer tools, and Safari Developer tools.
Experience with offline storage, multi-threading, and performance tuning.
Experience with SaaS platforms for software development like Analytics, Push Notifications, Cloud Storage, Ad Networks, etc.
Experience with AB testing, Analytics, offline syncing, GCMs, deep linking, notifications, etc.
Strong experience in design patterns, UI design principles, Object-Oriented Programming.
Experience with Maven /Gradle, CI tools like Jenkins.
Job Description: Job Location
The world is a global village now where connectivity is no longer a luxury, it is a necessity. With more and more companies opting for a hybrid style of working, it is best to make a note of this new style of functioning and apply this methodology if possible.

Although there are companies that insist on their employees coming to the office, it has been proven that a hybrid (onsite and remote) work culture also enables in delivering the needed results.
For a large number of potential candidates, commuting gets challenging, hence they take into consideration their could-be work location. If it is convenient for them to travel to work, they may opt to consider your position.
If you offer remote working or a hybrid working facility, it will certainly play the role of a catalyst to decide whether or not they should proceed with the application. It is a given that it will work in your favour if candidates are willing to work in your specific environment.
Job Description: How to Apply
Evaluate the easiest and quickest way for potential candidates to submit their job applications. There are multiple methods to apply for a role in a company. There are channels like using an Online Application Submission platform, Contact Us form, or simply sending an email to a potential candidate. With these available options, candidates can choose to apply for the designated job in their preferred option.

Prescreening: Focus on Technical Skills and Achievements
Use technical assessment software, machine testing, and have an interview dedicated to knowing the technical skills of the candidate.
If you are the only founder or run a small business or you do not have the skills to conduct technical interviews, we would recommend Stomper to you. It is a well-designed dashboard and NLP/AI/ML-powered software application to augment your hiring process. The app will help you find great employees, cut down on your hiring time and correctly match the talent your company needs for software app development.
Section2. Identify Sourcing Channels for posting your jobs
Now that you have learnt how to draft a job description for hiring Software Developers, it is time to identify the apt sourcing channels so you can post your requirements in the right place in the right manner to ensure maximum reachability.
The right way to choose the sourcing channels is based on your employment type: part-time, full-time, temporary, freelancer, contract-to-hire, intern, and the like.
Below is the list of top sourcing channels where you can post your job description:
Job boards

Past applicant database

Social networking sites

Your company website

Referrals

Placement consultants


Freelance platforms

Contract-to-hire providers

Email outreach

Apart from scrutinising past data, scouting from top sourcing channels is another method to follow. Below is an accumulated list of the same:
Job Boards
Use mainstream as well as niche job boards to post your job. Depending on your budget, use as many channels as you deem fit.
Popular Mainstream Job Boards
naukri.com, monster.com, indeed.com, timesjobs.com, glassdoor.com, ziprecruiter.com, linkedin.com, iimjobs.com are a few of the popular mainstream job boards and candidate database search portals. To find out more about other job boards, research the job portals popular in your city and/or country.
Niche Job Boards
stackoverflow.com, github.com are some of the popular niche job boards for tech hiring.
How to Hire Using Job Boards
To attract excellent Software Developers, you can increase visibility by posting your job description on free and paid job boards

Keep track of applications using a spreadsheet or applicant tracking software

Shortlist and connect with the candidates at the earliest. This will aid in getting a higher recall value
Section 3: Communicate With Your Candidates
Communicating with your potential candidates plays a very important role in this process of hiring. Whether it is communicating with your shortlisted Software Developers or the candidate you finally select, or/and those who you do not select this time, telling them about their position in a professional manner is pivotal in this scheme of things.
Past Applicant Database
If you have a database of past applicants you did not hire for some reason, you can contact them through email to communicate to them about job availability now in your firm.
Here are a few things to note while doing this exercise:
Analyse why they did not make it the first time

PIf the candidate was a potential winner the last time, check if the skills and credentials match your new requirement
How to Communicate With Your Past Applicants
Briefly include the following points when communicating with candidates in your database:
Write a personalised email showing how the company is excited to get in touch again with the candidate


Explain in a brief, sensitive manner, why the candidate wasn't chosen the last time

Mention briefly establish their current opening

Give a brief explanation of why the candidate is a good fit for the role this time

Describe in short how the entire process of recruitment will proceed this time


In short, keep your communication concise, sensitive, timely, relationship-building, and factually and grammatically accurate
Social Networking Sites
Nowadays, almost everyone uses social media to promote products, share about themselves and interact with people. Linkedin.com, facebook.com, stackoverflow.com, github.com, twitter.com, and instagram.com are among the top social media sites. Build your company's online presence using these platforms, engage with your audience by publishing relevant content, and advertise your job position to attract potential candidates.
How to Hire Using Social Networking Sites
Build your company's online presence by emphasising your niche areas.

Post innovative, original texts, graphics, and videos to engage with potential candidates who have joined your company page

Ask your employees to join your company page. Request them to share your posts online and spread the word

Leverage online groups and communities to improve your brand reach

Refer to customer referrals

Run paid ads to reach out to your target candidates
Communicate With Your Applicants
Mailing a confirmatory note, mentioning you have received the candidate's application is an important step in the relationship building process. Preferably, send the mail the day you have received the candidate's application.
How to Communicate With Your Applicants
Briefly include the following points when communicating with candidates who have applied for your company's new position:
Confirm that you have received the job application of the candidate

Thank the candidate for applying for your new position

Mention briefly what are the next steps in the recruitment process so the candidate is aware of them

Share your company website and social media details for the candidate to read and know more about your organisation


If possible, mention when you may tentatively get in touch with the candidate again to share more about the hiring process
How to Hire Using Referrals
Candidates referred by your existing employees, friends and acquaintances are more likely to join your company. Many companies have an employee referral program to reach out to potential candidates faster. Not only does referral-based recruiting help you fill the requirement more quickly, but it also lends an element of credibility as the candidate is approaching you via someone known to you.
Use the below-mentioned tips to create a referral program:

Decide whether it is appropriate to seek referrals for the job position by carefully evaluating the skills, expertise, and culture fit

Share your requirements with a select audience

Mention your recruiting process detailing how to apply. Give a detailed description of the requirements for the job

Assess the referred candidates as per their profile to check whether they match your requirements or not. It is advisable to share the referee's status when their recommended candidate is accepted or rejected

Pay the employee referral bonus if you have made an offer in the past

How to Communicate With Your Referral-based Candidates
Briefly include the following points when communicating with candidates who have applied through referrals:
In your email, mention the name of the reference so the candidate can immediately relate to your context and content. Preferably mention the name in the subject line to get the candidate's immediate attention

State briefly how you know the reference to build an instant connection with the candidate

Share in short what you know about the candidate and how you think the new opening in your company is a great opportunity for the candidate

Briefly mention the job description so the candidate can explore further

Give your company details so the candidate can get more educated on the same

Share details about the hiring process so the candidate is aware of what to expect next. If you have a date and time in mind, share those details too. The more precise the information, the more authentic the process

How to Hire Using Placement Consultants
If you have the budget to hire placement consultants to source, shortlist and present quality applicants, opt for that route too. Using their database of candidates and expertise to source the right candidate can help you hire properly more quickly and efficiently.

Consider the following points if you wish to impanel placement consultants for the job:
Before finalising, engage with several consultants with domain expertise

Engage with them to prepare perfect job descriptions that include talent, skills, and experience

Using a placement agency, hire staff on contract or based on time and material

Placement consultants have better expertise in reviewing resumes, checking professional backgrounds, evaluating performance, and conducting prescreening interviews, to concisely share the most relevant profiles with you

Do not hire a generalist agency. This is a niche field, therefore hire agencies that have the expertise to hire Software Developers
How to Hire Using Freelance Platforms
There are thousands of independent Software Developers who are scouting for the work you want to get done. Whether it is project-based or they want to be permanent employees, many Software Developers are available on freelancing platforms. Most of these platforms have systems to scout for top resources and provide enabling mechanisms to make the engagement safe, transparent, and result-driven.
Apply these checks to find the right Software Developers for your task:
Post your job on the freelance platform to invite consultants listed on their site

Hire professionals with relevant experience, ratings, and positive feedback from their past assignments

Study their portfolio to check whether they have the software development skills you require for your project

Interview the shortlisted candidates carefully by using chat, audio, and video calling. If you hire a professional team, meet the entire team involved in the project

Discuss deadlines, milestones, and content in detail. Clarify their doubts and counter-question them to check whether they have understood your requirement well

Give genuine feedback by evaluating their strengths and weaknesses. This will help them to become better Software Developers

Schedule meetings to supervise their work progress

Always split your payment based on milestones. Use the escrow account facility to your advantage

If they are not permanent employees, only project-based, at the end of the endeavour, release their payment on time
How to Hire Using Contract-to-hire Providers
Contract-to-hire is beneficial if you want the resources to work full-time for you, yet don't want them on your payroll. Hire Software Developers on a contract basis from staffing agencies, technology companies, online platforms, and software development consultants. If you aren't ready to commit to long-term employment with a new hire, hire people on contract.
Below are a few tips to guide you through the process:
When evaluating the staffing agency, explain in detail the skills and experiences you need to get the job done

Interview and discuss your project-specific details with the staff recommended by the agency before you commit to the contract

Provide adequate information related to the duration of the contract

Inform the agency in case you later want to hire the staff permanently

Note that it will cost you more money to hire people on contract

Negotiate well to arrive at a contracting cost

Carefully evaluate the resource's skills, competencies, and experience you plan to hire

Discuss replacement in case the contract staff leaves before the expiry date of the contract
Several online platforms offer pre-vetted Software Developers to hire online. Here is a list of top sites:
Toptal.com

upwork.com

fiverr.com

appetals.com

peopleperhour.com


guru.com

freelancer.com

How to Hire Through Email Outreach
Every developer has an email account. Access available email databases of prospective candidates through email newsletters, job boards, or partners. Draft your email as a unique invitation so your potential candidates feel charged and motivated to join your company. Email outreach is an effective channel to hire quality candidates quickly.
Below are a few tips to guide you through the process:
Build and evaluate your email list

Write a high-converting email copy outlining the skills, competencies, and experiences you need for the job. Provide details about your company, job profile, work culture, location, and compensation benefits. This will make your job description attractive

To avoid blacklisting and getting your email to a spammer list, validate email addresses using online email checker tools like bulkemailchecker.com

How to Hire Through ATR (Applicant Tracking System)
There are several candidate sourcing software that enable you to manage and streamline the entire recruiting process in one place. The tasks include posting jobs in multiple places at once. Applicant Tracking System (ATR) is one such. It helps you to post, evaluate and shortlist candidates, etc.
Publish Your Job Posting Error-free
Now that your job descriptions are ready and you have identified the apt sourcing channels, get ready to post your job details on job boards, your company's career page, freelance portals, and other relevant places.
The below-mentioned checklist will enable you to check for the right information before posting it in the public domain:
You have included a clear and simple title for the job description.
Your 'About the Company' section answers candidates WHY they should choose to join your company. What is your USP as an employer?
Your job description is free from grammatical and spelling errors.
Your shortlisted sourcing channels are relevant as they meet your hiring needs.
How to Communicate About Your Job Posting
Briefly include the following points when communicating about your job posting:
In a concise manner, mention the USP of the new job opening and why it is an interesting journey to embark on

Share briefly what the perks of the position will be

Make your mail concise and error free

Send the mail when all the groundwork is done and you are all set to hire your employee(s)
Section 4: Shortlist Resume and Conduct Screening over the Phone
If you have followed the hiring funnel correctly, follow the below-mentioned steps to move to the next step:
Shortlist resumes you have received based on how well they match your requirement

Conduct an introductory phone interview of all the applications that match your recruitment criteria

During that first interview, verify submitted details and collect additional relevant information
Before you start such telephonic interviews, set up a workflow to shortlist, prescreen, interview, and make an offer to the selected candidates:
Create folders to download and save resumes.

Create an applicant tracker worksheet to capture essential information about applicants and their current status. . If you are using any specific recruiting software, track your progress using the software.

Before commencing the screening interview, decide the questions you want to ask.

Ask similar questions to all candidates so you can evaluate them on similar parameters.

Create email templates to communicate with candidates for further rounds and to communicate their status in the hiring process.

Create a prescreening interview script and rehearse it to sound confident during the call.

Keep the phone/video conferencing system ready to conduct phone screening interviews.
Shortlist Relevant Resumes
During the shortlisting process, your goal is to identify candidates with software development skills that you have specified in the job description. If you follow the shortlisting process correctly, you will have a database of candidates with the right skills. This will help you gear up for the next step of the talent acquisition process.
Shortlist relevant candidates the right way by revisiting the job description to remind yourself of qualifications, technical expertise, job roles, experiences, and soft skills specified. For Software Developers, these relevant technical and soft skills are most essential to have:
Technical skills
Programming language and frameworks

Problem-solving skills


Integrated Development Environment (IDE)

Databases

Source control

System design

Cloud computing

Data security and data privacy


Clean, maintainable code

Algorithms
Soft skills
Teamwork and cultural fit

Communication skills

Adaptability

Creative thinking

Problem Solving
Keep only relevant resumes on the shortlist so you can focus on qualified candidates only. For all those candidates who don't make it to your shortlist this time, create a folder of 'potential candidates' and save it for your future reference. They may be apt candidates for your future requirements.
Note: Did you know, as per research, only 12% of applied candidates get invited for interviews? In this process of systematic elimination, there is no room for personal bias.
The Process of Prescreening Shortlisted Candidates
The next step in your Software Developer hiring process is to conduct phone screening. The ones you shortlist here are candidates who will go through the actual interview process.

Here is how to go about this method:
Share about your company, project, job role, and other fact-related data with the potential candidate

Assess the applicant's communication skills

In case of any ambiguity, ask more questions to get clarity

Understand salary expectations

Confirm location preference

Inform applicants about how the entire interviewing process will be conducted

Be ready to answer candidates who have queries about the position or job profile

Ask questions to check whether the candidate is suitable for the position or not. Use the below questions to conduct the phone interview:
Could you tell me what got you excited to apply for this position?
Tell me about your expectations from this role.
What qualities do you have to develop an software applications?
What was your recent project all about and what was your contribution to that rollout?
Could you describe your typical workday?
What are some recent significant challenges you faced at work and how did you overcome them?
How do you set goals and how do you achieve them?
Would it be convenient for you to travel to our office?
What is your notice period?
In the past, what programming languages have you used to develop software applications? Which ones are you most familiar with?
How would you describe your proficiency in your preferred programming language?
How do you learn new technologies?
How do you construct an software application from its requirement to delivery?
How do you ensure that your code will run faster, better, and error-free than anyone else's?
Have you ever had to update applications that were using old or outdated code? How did you uncover various errors, modify, and improve the code?
Name a completed project you are most proud of. Why have you chosen that one?
If need be, add more questions depending on your specific requirements keeping in mind that this interview should not exceed 15-20 minutes in duration. This precise process will help you decide whether or not the candidate should get shortlisted for the next phase of interviewing.
If you are part of a team of a big organisation, you can opt to use a video interviewing app to prescreen candidates whereas, for small and mid-sized companies, phone screening serves better.
Review Your Shortlist
Once you have zeroed in on your shortlist, share the culled information with other stakeholders. After a common consensus is reached, continue with the next step of the hiring process. Through a follow-up concise mail, let your potential candidates know that your organisation is interested in learning more about them.
How to Communicate Via a Follow Up Mail
Briefly include the following points when communicating about your job posting:
Confirm that you have received the candidate's mail

Thank the candidate for the interest shown in the new position

Briefly mention how the hiring process will be carried out

Share company and social media details so they can educate themselves about important details they need to know
Avoid resumes that lack attention to detail such as spelling, grammar, and punctuations.
Evidence of decreasing responsibilities, compensation, and job roles should be a red flag..
Note which resumes do not follow the instructions outlined for applicants in the job description.
Resumes that lack the job description's skills, competencies, and experiences you have provided should be avoided.
Avoid over-qualified and over-experienced candidates as they may not be adaptable and trainable in the new work environment.
As per a study, on average, it takes approximately 50 days to hire a single software developer. Unfortunately, even after such extensive hard work, one-third of these hired developers cannot code, this being the fundamental requirement of the job description. This could be due to various features. One of them is about hiring managers not being well versed with what they need to look for in their potential candidates. It is in this space that this master document plays a vital role.
If you properly follow the hiring funnel, strategies, and tips shared in this guide, it is rather tough to hire the wrong candidate. This guide is based on all that I have learnt and experienced over the last 25 years. I've hired hundreds of developers and coached tens of dozens to build better applications. This definitive guide is the crux of all my learnings, teachings, experiences, and outcomes.
Coming back to interviewing the shortlisted candidates – it is time to assess their technical, functional, and behavioural competencies.
Here is the preparatory checklist for you to select Software Developers:
If more than one person is involved in the hiring process, decide in advance who all will be part of your interviewing panel

Conduct meetings with concerned stakeholders to develop a shared understanding of the job description. This will help to clarify skills, abilities, experiences, and behavioural aspects you aim to find in your candidate


Share the list of shortlisted candidates with all stakeholders

If you plan to use an online assessment tool for technical and coding interviews, set it up in advance

Manually schedule interviews with shortlisted candidates or self-schedule using appointment scheduling tools

Create a communication plan to share details about your company, management team, interviewing process, office directions, parking instructions, whom to contact upon arrival, security procedures, and dress code (if any), apart from other relevant details required for the candidate to know

Share a list of interviewers the candidate will meet along with links to their LinkedIn profiles
Make sure you assist them throughout the interviewing process so they have a smooth and great experience interacting with you. Diligent planning and communicating effectively with candidates can help them feel confident and positive before the interview.
Below are a few tips that will enable you to achieve your goal:

Match experiences in previous jobs, portfolios, or projects.

Check for excellent technical skills for solving problems and writing codes.

Check for business domain expertise in similar or adjacent industries/ projects.

Take note of skills in project management, communication, and behaviour.
First Round: Focus on Technical Skills and Achievements
Use technical assessment software, machine testing, and have an interview dedicated to knowing the technical skills of the candidate.
If you are the only founder or run a small business or you do not have the skills to conduct technical interviews, we would recommend Stomper to you. It is a well-designed dashboard and NLP/AI/ML-powered software application to augment your hiring process. The app will help you find great employees, cut down on your hiring time and correctly match the talent your company needs for software app development.
Click here to check it out and get started for FREE.
Over the years, we have hired hundreds of Software Developers for ourselves and our clients. In the process, we have built a master database of the right questions to be asked during the interview. Referring to this database enabled us to hire highly skilled and well-rounded app developers.
Below is our question bank that we created over the years. This database will be of great help to you as it will help you confidently interview and decide whether or not the candidate is fit for your specific role.
A successful Software Developer is familiar with the programming language and its key constructs. During the interview, evaluate their competencies in syntax, OOP, collections, SDKs, Exception handling, Input/ Output streams, and multithreading. You should firm up technical interview questions beforehand you need to ask the shortlisted candidates:
Candidates who boast about other offers in hand.
Candidates who are not passionate about your job role and do not have an interest in your company.
Candidates who play the victim card to earn sympathetic support from interviewers.
Those interviewees who blame all failures on their colleagues or managers.
Those who are unable to provide convincing answers about their previous work.
Candidates who are sloppy, tardy, swear at work and are unprepared.
Candidates who refuse or fail reference check and background verification.
Assess Candidate Job Fitment
You have finally reached a stage where you need to effectively, efficiently, and accurately pick the right candidate for the role of an Software Developer. After shortlisting, screening, and interviewing, you have found candidates who are:

Suitable, but you have not been able to decide yet whether or not they are the perfect fit for your job description (in anticipation of meeting better candidates).

Have excellent skills and competencies, but a condescending attitude.

Arrived late for the pre-scheduled interview, or did not answer all your queries clearly.

Hard to read. You may want to fix another round of interviews or do a reference check.

Competent, but not ready to develop apps from start to finish without being coached.

Definite winners as they had a neat appearance, excellent communication skills, were keen to join your company, were knowledgeable about your company, its products, and challenges.
Your job is now to separate the wheat from the chaff and shortlist candidates you and other interviewers consider a perfect fit for the role. Here's how you can do that:
Step 1: Review the candidate evaluation sheet shared with other interviewers and compile them together.
Selection Scorecard: Software Developer
Customise the rating scale to fit your specific requirements.
Step 2: Compile and share outcomes with all stakeholders. If needed, hold a meeting to discuss the outcome and jointly select the candidate(s). Come to a conclusion on whether a candidate will move forward in the process or not.
Step 3: Now that you have decided which Software Developer(s) to hire, the next step in this process is to make a lucrative offer to the selected candidate(s).
Note: To streamline, consider using software programs to manage candidate evaluations.

Making an excellent job offer to the chosen candidate, assists in starting the employment relationship in a positive way. It is important to state as much job-relevant content as possible. This sets the base for all future references.
As the hiring manager, prepare the job offer in advance to identify the negotiable and non-negotiable elements in the deal. Obtain approval from the hiring manager and leadership much in advance.
A job offer letter must include the following content:
Job Title and Description: The job title is the position you are recruiting for. It indicates the seniority of the position. The description must entail all the types of tasks you expect the candidate to perform

Manager Details: This section of the offer letter should contain the supervisor's name and contact details. Additionally, it can also contain the floor details on which the team sits (in case your office space has multiple floors). Include a buddy name and contact details for ease in onboarding

Date and Time: The start date is the date when you expect the selected candidate to join your organisation. While it is important to communicate the start date and time you expect the candidate to be at the office, it is also important to communicate the time period within which you expect the candidate to respond to the offer
Salary: Quote the salary that the candidate will get. Include the breakup of the components too
Additional Benefits: Briefly describe the benefits that the employee will be eligible for. For example, medical insurance, different kinds of leave, total number of holidays, company standard benefits, et al. Mention that all benefits are available for review. The company shall retain the right to modify the benefits

Bonus/ Commissions: Briefly describe the terms of bonus payouts or commissions. State any formal bonus or commission plan that an employee can refer to so they get to know about their eligibility. Additionally, mention that any payout is at the company's sole discretion

Employment Conditions: If it is your company's policy to expect confidentiality and privacy of all work-related assignments, include this clause in the offer letter
Company Privacy Policy: Mention your company's policies and procedures. State in the offer letter that employment is subject to adherence to these policies and procedures

Contingencies:
The offer letter should state that the offer is contingent upon a clearance on background checks, references, and adequate proof of the candidate's right to work as required by law

Based on the above explanation of essential sections in an offer letter, below is a sample letter. Customise the content and structure to make it unique and address your unique needs.
How to Communicate With the Selected Candidate(s)
Based on the assessment process, select the top candidate along with a backup candidate (in case the chosen candidate rejects the offer).
Congratulations on selecting the right Software Developer for your company! It is time to call the selected candidate to communicate the offer over the phone. Describe briefly how the candidate became your preferred candidate and how excited the company is to bring the candidate on board. Keep it direct, concise, and warm. Follow your telephonic conversation by sharing the offer letter via email. If need be, you can share a printed copy too.
The candidate may want to clarify their doubts and questions before accepting the offer. As a hiring manager, clear all doubts of the candidate. Also obtain a reply via email or obtain a signed copy stating the candidate has accepted your offer.
How to Communicate Your Job Offer via Email
Briefly include the following points when communicating about your selection:
In a concise manner, share how happy and keen the company is to get the candidate on board. Congratulate the candidate

Mention the job offer letter details in the email

Once this process is complete, communicate the next action steps. For example, completing forms, submitting necessary documents, induction, and onboarding processes. Sharing how their first day might be like is a good practice to follow
How to Communicate With Rejected Candidates
Let the rejected candidates know their outcome. Tell them what attributes you liked about the candidates. Communicate to them in a cordial and professional manner that if another opportunity comes up that is suited to their skills, they will be the first to be considered. Let them know that their information is in your database for future reference. Invite them to join your talent community.
Briefly include the following points when communicating about your selection:
Thank the candidate for applying for the job

Appreciate them for their cooperation during the selection steps

Be gentle, sensitive and empathetic in your mail

Offer constructive feedback

Thank the candidate again for applying for your new position
After successfully hiring Software Developer(s), revisit your goals and success measures that you had defined in the planning phase. This will help you decipher what all is working and what isn't.
Identify improvement opportunities. Ask the new employee for feedback and ways to improve your hiring process. Consider how technology can help streamline hiring activities, boost productivity and free you up to focus on what's really important: nurturing candidates and relationships.
By following a step-by-step guide each time your organisation hires a new candidate, you'll be able to streamline processes, ensure the whole team is on the same page, and identify where your hiring process can improve.
Appetals Solutions has worked with leading global companies and startups to assist them in hiring result-ready Software Developers.
you are looking to hire Software Developers availing of our recruitment service, learn about our hiring process by clicking here.
Alternatively, you can write to us at sales@appetals.com to discuss the requirements.